(This is an archived old post from the previous version of the page.)
We are floored by the reception that the teaser has gotten. This is very encouraging. Thank you. We hope you are ready for more information about the game. Here are four places where you can find it!
1. Eurogamer asked if there was any combat in the game.
2. Polygon asked "what kind of game is it exactly?".
3. We talk to Machinima's IGD about the inspirations behind the game.
4. Gameranx wonders what is it that we're trying to achieve with the game.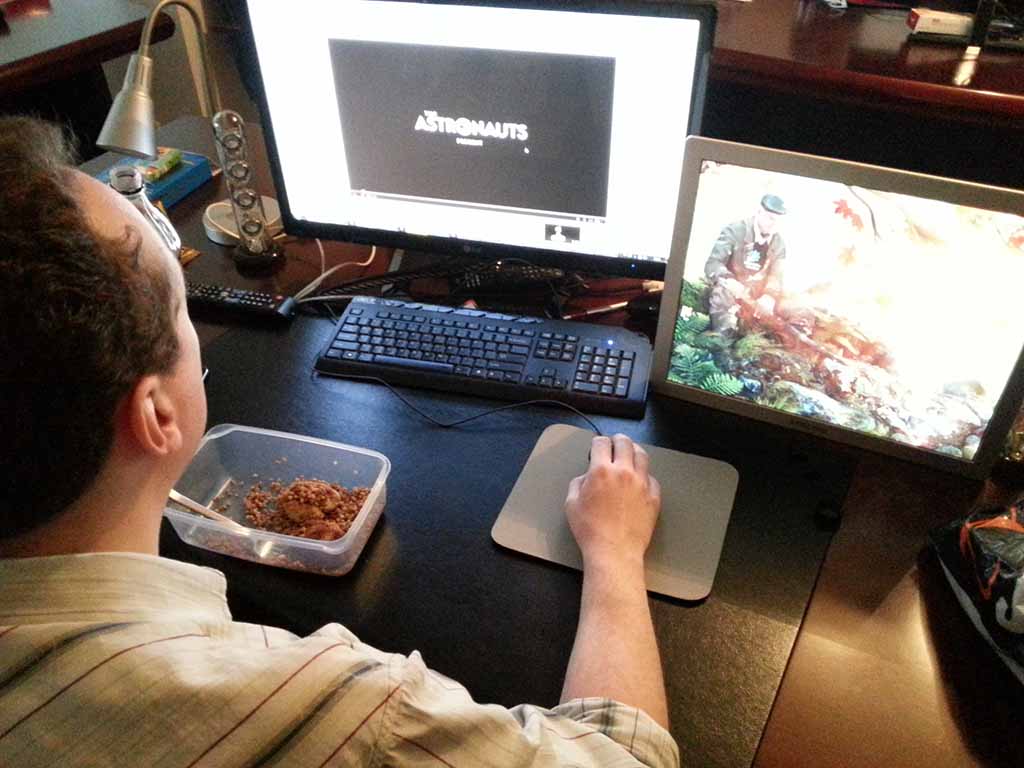 Also, we care, so we read almost everything that people wrote about the reveal. We love you all, but certain comments made us smile like a meme dog. Here's our top ten comments about the teaser for The Vanishing of Ethan Carter:
When a journalist is right, he's right:
[…] The Astronauts (which is the best developer name since… since People Can Fly) […] – Rock Paper Shotgun
On our very own YouTube channel (and we have to admit, initially we had no idea who Annie and Tibbers were):
What that old man did to Annie and Tibbers? – MacieKarol
…and one more we couldn't agree more with:
This game seems to have a soul – Razvan Florentin Popescu
Who is this game for? This is one way to put it:
If you're a person who spent nearly as many hours dimming lights, tweaking curtains and fiddling with gamma settings as you did actually playing Thief 2, then this is for you. If, alternately, you're a person who likes '20s pulp fiction or exclusive PC games, then this is probably also for you. – PC Games N
Eurogamer often talks about indie games, and luckily we were included. One man has noticed something:
To go from insane shooters to something of such a different tone is a move I can respect. Flex those creative muscles. – killemoff
At Escapist, someone looked into the abyss, and the abyss looked back…
"Okay, so it's an old man by a fire. Huh, that's a burning teddy bear. Wait, that's not just a bear, there's a shoe and…" *Silence of horrid realization.*. Yup, I'm now very intrigued. – James Nettum
One anonymous commenter on IGN explained his feelings very clearly.
I don't know how else to put this. My pole is pointing so north right now. – Guest
We love the fact that people have their own interpretations. Here's an example from Kotaku's comments section:
I wonder if Ethan is a child, given the items that were burning in the fire. Either that, or it's him in the teaser burning his old belongings. – Saccade
Have we chosen the right setting? A commenter on Polygon think so:
I hope the game takes place in some places like in the image above. I feel like murder mysteries benefit from being more towards the wilderness rather than in a crowded city. – thinkklinck
Finally, among the nice comments on our Facebook page…
Rarely do I fall in love. This, is one of those moments. 'till a few minutes ago, I could not believe this type of game and studio could exist more than with the exception of TGC. Do prove me wrong. Incite me to dip my fingers into the industry again. – Pierre-Olivier Racette
Thanks for reading! Later this week we will reveal a few surprising secrets behind the teaser – and more. Stay tuned!